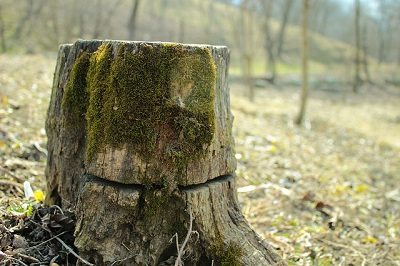 It's August already?!  Summer is in full effect.  It's hot, humid, and that combination frequently brings thunderstorms to the greater Cincinnati area.  Sometimes a storm every once in a while is calming, but big storms cause more harm than peace.  This is especially true right in our backyards.
Storms do more damage than we realize.  The river floods and causes problems in lower levels of homes; hail can damage our cars and other property outdoors.  Sadly, we can't help with those two issues, but we definitely can help to repair any landscaping that may have been damaged during the storm, and remove dead trees and their stumps if they've been knocked over.
Stump Removal, Grinding, and tree removal is something we do frequently, especially after storms.  We remove the stump from the ground, grind it into thousands of pieces, and then haul it off for you.  The best part about Clean cut is that we are one of very few companies that do landscaping as well as tree service.  If you'd like to plant something in place of the old tree, we can be of assistance.
It's also important to note that just because a tree limb is broken or damaged, that doesn't mean the tree will die.  Seeking professional help could possibly save your tree, and at worst be certain that the tree will not survive, prompting removal.  The Arbor Day Foundation has some great notes about this on their storm recovery page.
Tree health is something to take into consideration with the trees in your yard.  Regardless of the health of a tree, if a storm is strong enough the tree may fall.  However, if you want your trees to stay as strong and healthy as possible, Clean Cut Tree & Landscaping is someone you should call.  Our certified arborists have great knowledge when it comes to trees, and can be truly helpful to their health.
We hope that a storm doesn't affect the set up of your landscaping efforts, or knock over any trees.  In the case that they do, fill out our form or give us a call for a free estimate on any of our services.  We look forward to solving a problem or improve the curb appeal of your home as soon as possible!