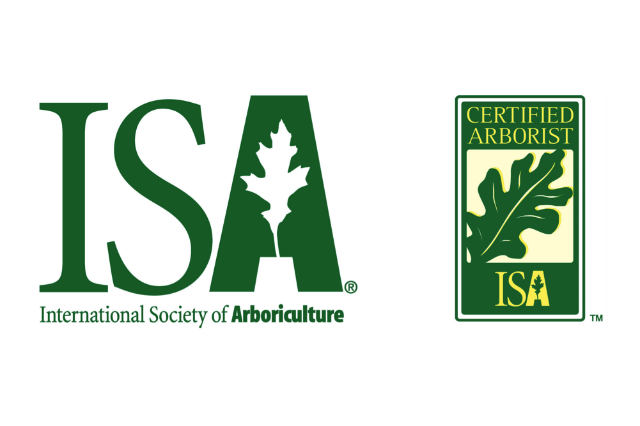 If you've ever had the need to hire a company for tree removal or trimming then you may have come across some companies that claim to be an ISA Certified Arborist – we ourselves happen to be ISA Certified. You may not know what exactly that means but it's actually a very important certification in the arboriculture industry and here's why.
What is an ISA Certification?
A Certified Arborist designation sets the person apart from others as someone with the commitment, dedication, and knowledge within the industry. When an arborist holds a Certified Arborist credential it means that they have met minimum requirements according the International Society of Arboriculture.
Requirements to become an ISA Certified Arborist
That includes a minimum of three years full time experience in the tree care industry and/or a "degree in the field of arboriculture, horticulture, landscape architecture, or forestry from a regionally accredited educational institute." You must be trained in all areas of arboriculture and also adhere to a code of ethics.
An exam also must be taken to prove your knowledge within the field. It contains 200 questions and topics include tree biology, identification, tree-soil-water relations, nutrition, fertilization, planting, pruning, cabling, bracing, preservation, climbing, and risk assessment. The certification is valid for three years and during which time the certification holder must reapply.
Why is it important to hire an ISA Certified Arborist?
There are many reasons it is important to choose an ISA Certified Arborist. Since it's inception, the certification program as dramatically improved the industry by setting minimum standards and incentives to certified arborist for continued education in the field. This means that certified arborists have a more scientific knowledge instead of the vaguer education un-certified arborists hold. This means that someone hiring a tree service will be given an extremely high assurance that their trees and landscape will be handled correctly which in turn will cut back on damage to your property.
Other ISA Certifications
The International Society of Arboriculture offers other more specialized certifications as well that you should look for including Board Certified Master Arborist, Certified Arborist Utility Specialist, Certified Arborist Municipal Specialist, Certified Tree Worker Aerial Lift Specialist, Certified Tree Worker Climber Specialist, and Tree Risk Assessment Qualification.
You can learn more about the standards that the ISA sets for their certified arborists by visiting them at www.isa-arbor.com. In the meantime you can rest assured that Clean Cut holds this very important certification and can rest easy knowing we perform our work with the utmost care and pride. Before hiring a tree service check their website for that all important ISA Certified badge. If they don't have one we recommend looking elsewhere. If you have any questions on ISA Certification please feel free to drop us a line here!