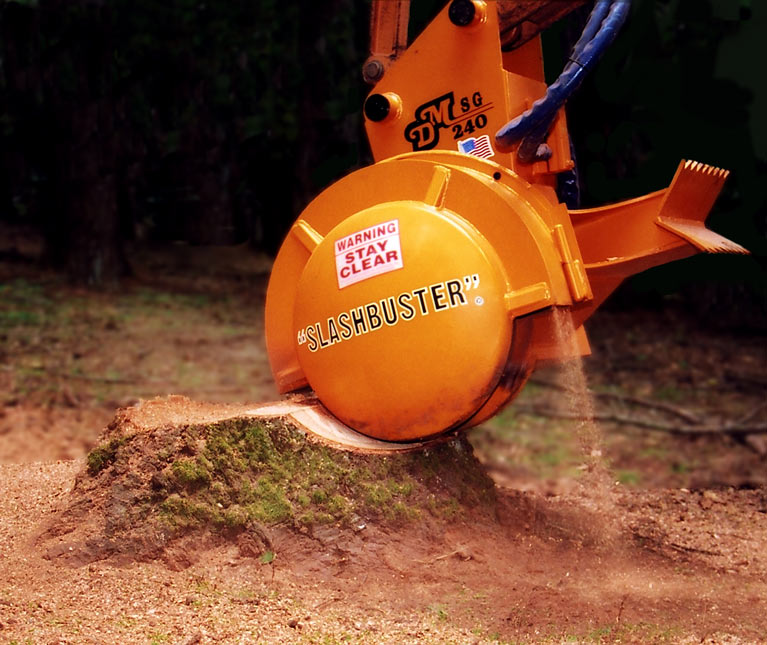 We've talked in the past about the reasons why it's better to remove a stump than leave it. Once you've decided to get rid of it, you might be wondering how exactly you should do that.
There's a lot of stump removal advice out there, and much of that advice is debated intensely. What works well on one stump often fails on another, and people are pretty vocal about this [and people are usually pretty vocal about what worked for them and what didn't]. If you've ever turned to lawn care forums for stump-removal advice, you probably ended up more confused than you started.
At Clean Cut Tree and Landscape, we have years of experience removing stumps. We've talked to many a stump-owner and now have a lot to say about stump removal and the best ways to go about it. So, we wrote a guide to walk you through the common methods of stump removal and the pros and cons of each.
First, an overview of the removal methods
Once you've decided to remove a stump, the next step is to decide how you'll do it. Here are your options:
Letting it rot away naturally
Using chemicals to accelerate rot
Burning it
Pulling it out of the ground
Grinding it
Next, we're going to walk you through each of them. For each method, we'll go over how long it will take, how much it will cost, and how easy/difficult it will be to pull off.
Letting it Rot Away Naturally
Cost:
This is the cheapest of all methods. It costs no money nor any of your time.
Time:
This is also the longest of all the methods. It can take as long as 10-15 years for a stump to decompose fully without any outside intervention.
Difficulty:
This is the easiest method because you don't actually have to do anything.
Overview:
Letting a stump rot away naturally is the cheapest and easiest way of getting rid of a stump. However, because you aren't actually doing anything to remove the stump, can you actually consider this method "stump removal"? If you've come here wondering about the best way to remove a stump, it wouldn't make much sense to ignore it for 10 years. However, this is technically a method, so we included it for the sake of being thorough.
Using Chemicals to Accelerate Rot
There are many different ways to rot out a stump, but they all involve the same process: drilling holes in the stump, filling those holes with something, and waiting. This speeds along the natural rotting process considerably. Something high in nitrogen is best for the job, but it only works if the stump is already dead when the nitrogen is applied. If you're dealing with a tree that was alive when it was cut, that stump isn't dead. It often takes between 1-2 years just for a stump to die after a tree falls.
Cost:
Stump-rotting powder costs anywhere between $5-$100 depending on the quality and quantity of the powder you buy.
Time:
Using chemicals to rot a stump doesn't involve much active time, usually only between 30 minutes and an hour. However, while stump-rotting chemicals do speed up the decomposition process, they don't do so as quickly as one might hope. In most cases, rotting chemicals reduce the amount of time it takes a stump to fully decompose by half. However, you're still looking at 5 years minimum before the stump fully goes away, and that's not including multiple applications (which are often necessary).
Difficulty:
So long as you have the drill bits you need to make holes in the stump, it's very easy to do.
Overview:
Chemically rotting a stump falls in a weird place. People who want to remove a stump want it gone, but stump rotting powder still takes around 5 years to get rid of the stump (not to mention the extra year or 2 it will take for a freshly cut stump to die). Whether you decide to remove the stump because of safety, convenience, or to free up space for a building project, we're not sure you'd want to wait 5-7 years either. It's such a lengthy timeframe that we believe it makes sense to utilize a quicker method.
Still, if you want your stump gone, but don't mind waiting several years for it to go away, stump-rotting chemicals are your best bet.
Burning it
Burning stumps is something that is often recommended but not well-understood. Burning a stump does work, but some conditions must be met beforehand: the stump has to be dead, it has to be dry, and there has to be something in the fire that supplies its own oxygen. If these conditions aren't met, the stump will either not burn at all (if it's wet) or only burn to the ground, not below it (if it can't supply its own oxygen).
Cost:
Burning a stump is inexpensive. All you need is saltpeter (which only costs around $5) and something to keep a flame alive, such as gasoline, kerosene, or oil.
Time:
Burning a stump does not require much active time. You usually have to fill the dead stump with saltpeter for 6 weeks (as if you were using chemical remover), and then you can set it aflame and watch it burn to (and beneath) the ground.
Difficulty:
Provided the stump is actually dead when you begin this process, it's not a tough process to follow. However, there are many people who report that their efforts to burn a seemingly dead stump were fruitless. Your mileage may vary.
Overview:
If you've got a dead stump that's out of the way of other flammable material (like, say, a house), burning the stump is a good way to get rid of it. However, stump burning often fails unexpectedly and for no apparent reason.
Pulling it out of the ground
You can pull out a stump either by hand (with the use of tools) or with some sort of vehicle. Some people tie the stump to their truck and hit the gas, but that can ruin the transmission.
Cost:
If you plan to remove a stump, either with your tools or truck, it's likely that you already have the required materials on hand. In that case, removing a stump is inexpensive. Of course, there's always the price of your transmission (or even your health) to consider.
If you use a truck, there's no good way to tell just how stubborn a stump is going to be. Best case, the stump comes out without a fight. Worst case, you blow your transmission and still have a stump in the ground. Let us be clear: it is not good for a truck to pull at a stump like that. If you use a chain, it could snap and hit someone or something. Do not do this.
Time:
Whether you plan to use some tools or your truck, you have to spend a considerable amount of time digging around the stump and cutting roots to loosen the stump. You're looking at an entire afternoon of hard work.
Difficulty:
This method is extremely difficult. It requires a lot of effort to prepare the stump, and unlike other methods, this one has a relatively high failure rate.
Overview:
Honestly, you could remove a stump by hand if you'd wanted to. It's doable, either with hand tools and a lot of work or with power tools (or even vehicles!) and some more work. When you consider that it's dangerous to both your vehicle and body, we advise against it.
You also need to consider what you will do with the stump after you've removed it. Will you burn it? Put it in the trash? Many cities don't pick up stumps if they're thrown out with the rest of the trash.
Grinding it
Stump grinders are machines that resemble a circular saw that spin and grind away at a stump until there's nothing left. You can either rent one from a hardware store or hire a landscaping company that owns one to grind the stump for you.
Cost:
At the very least, you'll spend about $100 to have a stump removed. It usually costs between $90 and $140 to rent a stump grinder from a hardware store, and it typically costs at least $150 to hire a professional to grind one for you. The most economical option for you depends on how many stumps you need removed.
Time:
Stump grinding is the fastest way to get rid of a stump, period. The entire process only takes between 15 minutes and 1 hour depending on the size of the stump.
Difficulty:
The more powerful the stump grinder is, the easier it will be to operate. The cheapest stump grinders resemble push lawnmowers, have narrow blades, and require the operator to guide them manually. The more expensive and powerful ones have treads or are pulled along the backs of trucks and are operated by a control panel near the back. More powerful stump grinders are much easier to use than weaker ones, but they're all relatively easy to operate.
Final verdict:
We feel that stump grinding is the best way to get rid of a stump. Not only does it remove the stump immediately, but you can also plant something new in the area where the stump was the same day you remove it since there are no chemicals involved.
Also, stump grinding makes a lot of wood chips, which are excellent fertilizers if the stump was dead when it was ground. If the stump was still alive, you'll have to dispose of the chips somehow, because they will kill any plants you put them on. If you hire Clean Cut to grind your stump away, we'll haul away the chips for a small additional fee!
Clean Cut is Available for All Your Stump Removal Needs
Now that you know more about stump removal, it's time to take the next steps. Decided on rotting or burning your stump? Run on down to the hardware store!
If you decide that stump grinding is the best move, call Clean Cut for a stump removal estimate today.
Otherwise, we hope our advice helps you deal with your pesky stump!