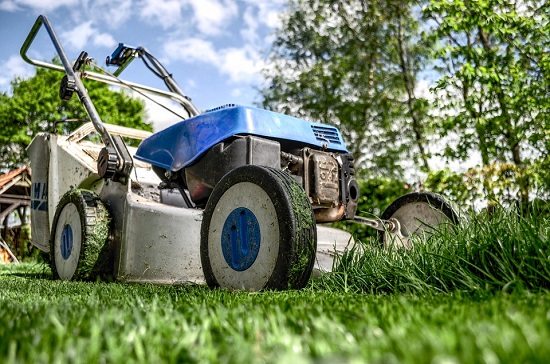 Spring can be unpredictable but there's always one thing that you can anticipate – spring cleaning, of course!
And while you probably have plans to replace your air filters or deep clean your carpets, what do you plan to do for your yard? After all, unlike traditional spring cleaning which happens – or doesn't happen – in the privacy of your home, the amount of effort that you put into your yard cleanup is on display for the world to see. Do you really want to be the neighbor with winter debris still left on their lawn? We didn't think so.
Now is the time to rid your lawn of what winter left behind and to prepare it for the heat of summer. Follow this checklist and rest easy knowing that your yard is in good shape.
Pre-Cleanup
Whether from excitement or the desire to simply get it done, your first impulse may be to start your yard cleanup right away. But before you reach for your lawn mower, your clippers, or any of your other gardening equipment, it's imperative that you do a thorough walkthrough of your garden first. Now is the time to look for any animals or nests that may be hidden in the depressions, plant life, or manmade structures in your yard. While it's best to leave wildlife where they are and simply work around them, if you absolutely need to relocate an animal or their nesting area, you should contact your local wildlife association first.
Once this taken care of, you are ready to roll up your sleeves and begin your real work.
Lawn
Remove Yard Debris
Mow the Lawn
Overseed Bare Spots
Pull Weeds
Spread a Layer of Mulch
Apply Pre-emergent Weed Killer
Start with a complete sweep your yard and ensure all branches, sticks, and dead leaves are collected and disposed of. If these leaves are dried and not soggy or wet, they can even be saved to make carbon-rich compost later. After you've cleared your lawn of debris, mow it in its entirety, ensuring that it has an even and tidy appearance. Also make note of any thin or missing patches of grass as you go. You'll want to introduce new grass seed into these areas as early in the season as possible. This will ensure that the seedlings have a chance to mature before the soil becomes too hot.
If weeds are a significant concern in your yard, make sure to spot treat them as necessary. Removing even minor weeds now will do a lot of good for both your plants and you over the long run.
As an important note on weed killers, keep in mind that these chemicals work best when they are able to fully penetrate the lawn. This means that there are things that you should avoid when it comes time to apply a weed killer. First, avoid applying weed killer before or after you cut your grass. Second, avoid applying it on days when it's raining or expected to rain. And, of course, avoid walking through your lawn for up to 24 hours after the application. In short, it's best to save this task for a separate day or, at the very least, until your other cleanup is complete.
Trees, Shrubs and Flowers
Prune Dead and Damaged Branches
Prune Annuals and Perennials
Mulch Trees and Flower Beds
When it comes to pruning, your primary concern should be to protect people and property from harm. This means that pruning your trees is essential – you simply cannot skip it. But aside from just removing the hazards in your yard, pruning is important to the health of your plants. When done in time, pruning can stop the spread of disease or infestation. Moreover, in the case of flowers, it can even help with their growth and appearance.
After you've cut back your trees, shrubs, and flower beds, the next step is to lay down mulch. Mulch will help your soil retain moisture, suppress weeds, and even contribute to the aesthetic of your yard.
With a rake, remove leftover mulch from the previous year. Then, apply a fresh layer of mulch to the base of trees, flower beds, and the remainder of your yard. It's important to remove old mulch first before applying a new layer. Otherwise, you may suffocate your plants under too much. Also keep in mind that organic mulch composes faster but releases more nutrients whereas dryer mulch, such as shredded bark or wood chips, lasts longer but releases less nutrients over time. Ultimately, your choice should depend on how soon you want to replace it, how much nutrients your plants need, and your aesthetic preferences.
Hardscape
Clean and Repair Fences
Clean and Repair Paths
Clean and Repair Patios
Your yard consists of more than just plant life – you need to take care of your hardscapes, too! After winter, most structures only need a thoroughly cleaning with a mix of 2 gallons of water, 2 quarts bleach, and 1 cup liquid soap. If the past winter was particularly mild, even just a spot cleaning with a low pressure washer could suffice.
Unfortunately, if any of these structures sustained significant damage over the previous months, there is little that you can do aside from outright replacing the broken segments with new hardscape. In the case of fences, however, large shrubs make a suitable replacement. In fact, some people may prefer this due to shrubs being easier to maintain and providing a more natural aesthetic. Similarly, planting shrubs or flowers along the side of a path can draw eyes away from cracks and even add more shape to your yard.
Preparing for Next Time
Prepare compost
Perform equipment maintenance
By now you've put in a hard day's work. While you could call it a day, there are a few additional steps that you can take to make your next landscaping project easier.
When it's hot outside, compost can be made relatively quickly. In fact, it only takes one to three months to prepare compost during warm weather compared to several months in the cold. This means that there's no better time to start collecting leaves, coffee grounds, shredded paper, and other materials to breakdown during the summer.
We'll Handle Your Yard Cleanup for You
If you truly want to avoid a hassle, however, you can turn to the landscaping professionals at Clean Cut Tree & Landscaping. While Mother Nature might not always accommodate your personal schedule – we will. Best of all, you can always expect friendly, expert advice and a high-quality landscaping service at an always reasonable price. Call us at (513) 769-8733 or e-mail us for your free tree service or landscaping quote.